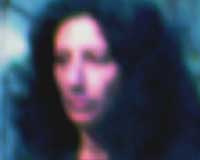 Ani Kupelian
Ani Kupelian's Art oscillates between a conscious, rational, constructivist approach of permanence to her work and a more perceptive, heartfelt, casual treatment of the material and its surface telling of a transient quality. The photographic images of her sculptures cannot be proclaimed as photographs, nor as sculptures: They stand somewhere between object and idea, and between subject and content. As a result, content cuts away from subject matter to become a mental construct with a connotation of its own. Figures, totems, animals, plants, objects, standards and large constructions are surrogates to tricksters, instigators and mediators. As in mythology, animals are symbols of transcendence and trees characterize growth and the development of psychic life. The juxtaposition of traditional and industrial materials multiplies the many readings of the existing symbols. In making her art, Ani Kupelian strolls through time, space, her own unconscious mind, her intuition and through art history. In her recent installation, she invites the visitor to take a journey in a world where culture, sexuality, morality, race, war are eternally divisive, yet opposites become juxtaposed, connected, intersected, even entwined.
Ani Kupelian hand-builds her sculptures, in a modular fashion. She can arrange them in many different ways creating new layers of meaning, while each component remains a work by itself. While her art is essentially sculptural in form, all media and styles are considered in order to achieve the end result.
This is the artist / sculptor's 3rd solo show in Los Angeles. Her 2nd show was in 1966 at the Brand Library Gallery with a single piece, Trespass. This 15 feet high, 2500 pound steel gate has earned two art revues in the Los Angeles Times, several in local papers and has been mentioned in the Picks of the week of L.A Weekly. An online show is presently in progress at http://www.anikupelian.org.